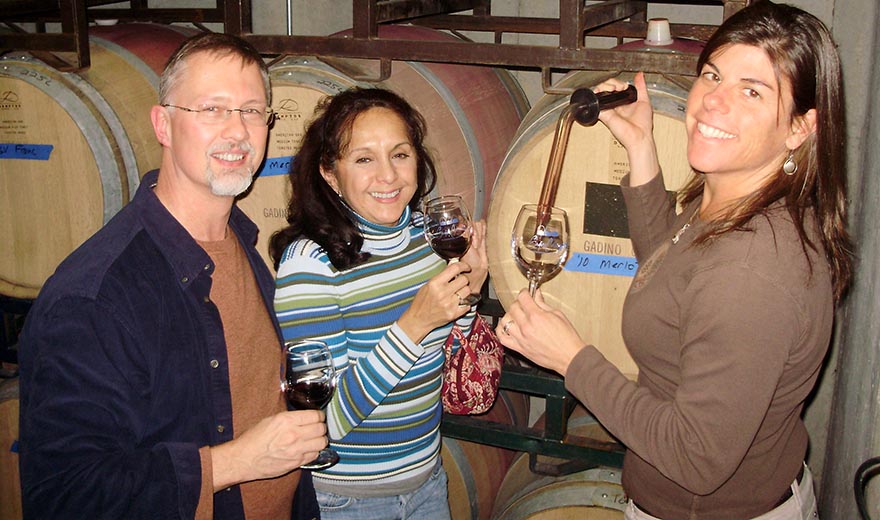 Our Wines
Our focus is on making small lots of wines from select vineyard blocks reflecting diverse growing conditions and microclimates from Virginia's best viticulture areas. This gives us the opportunity to produce unique wines that truly represent the character and qualities of the grapes from those areas. Our philosophy allows the fruit to be the primary determinant in our winemaking decisions. Annual production is less than 2000 cases, which allows us to attend to cleanliness, detail and quality in our wines.
2014 Petit Manseng
This vibrant full bodied dry wine is driven by a beautiful acidity with ample zesty lemon on the palate.
This wine would pair nicely with crab cakes, glazed mahi or dishes like Hawaiian chicken.
2014 Pinot Grigio
This is a classic example of a Pinot Grigio from the Frietag's Tollgate Farms Vineyard. The nose is packed with crisp intense aromas of bright spring and light cream followed by a full pallet of gentle citrus fruit with a hint of spice and a soft creamy mouthfeel.
A premium Pinot Grigio, you'll enjoy pairing this wine with brunch fare like quiche, fruit and cheese, or calamari.
2013 Barrel Select Chardonnay
Crafted in the sur-lie style & aged in Allier French Oak for 6 months, this barrel select wine is soft and creamy on the palate with true chardonnay character.
A wine of finesse with beautiful structure and a lingering oak finish; its notes of citron, candy apple, and vanilla coupled with its clean finish make this chardonnay an excellent choi
2014 Luminoso
This is delightful seasonal semi-dry wine has beautiful and bright tropical aromas that set up a full palate of pineapple, almond, and a hint of lemon zest with a bold crisp finish.
This wine would pair nicely strong hard cheeses, foie gras or lightly spiced dishes like prawns with lemon grass and ginger.
2014 Sunset
This delightful sipping wine is designed to be enjoyed with friends.
It is clean, fruity, and refreshing with a lingering, silky mouthfeel. The aroma of honeysuckle greets the nose, followed by flavors of honeydew and pear, and just a hint of spice on the palate. It has just a touch of residual sugar (2.5%), balanced by good acid structure. Our Sunset blend is a versatile wine that pairs well with hors d'oeurves, brunch, or luncheon fare.
2014 Moonrise
Reminiscent of a Provencal Rose, this delightful dry wine. Full of fresh picked strawberry aromas with hints of cranberry entice aromatically. The palate unfolds with pomegranate and light red cherry mixed with cranberry. A dry style rose to be enjoyed with foods with its sweet tart palate and racy acid. A nice fun wine anytime
2014 Merlot
This elegant wine offers fruit and spiciness in the nose along with a tantalizing palate of cherry, mocha, tobacco and a hint of clove.
Enjoy this wine with a nice filet mignon or venison steaks with a mushroom wine sauce.
2011 Cabernet Franc - Antiche Viti Riserva
Limited Re-Release of 2011 old vine Cabernet Franc Riserva. We have brought this back out upon request from our Library. This is a very European expression of Cabernet Franc with a lower alcohol level. The bottle aging has brought forward the berry fruit in a soft supple way. Enjoy
2013 Delfino Rosso (Meritage)
A Bordeaux blend with 55% Cabernet Franc, 30% Petit Verdot and 15% Cabernet Sauvignon to complete the Meritage blend. Aged for 18 months in a combination of French and American oak barrels, This wine has a rich purple color, woodsy aromatics, black cherry and vanilla with firm tannins. Great with grilled steak, duck or braised beef cheek.
2012 Nebbiolo
Our block of Nebbiolo vines have delivered a high quality wine that is bottle aging similarly to an Italian DOCG Barolo. Bottle aging adds a suppleness to the racy acidity and tannins that Nebbiolo is known for along with bright cherry on the palate. Best paired with dishes like rack of lamb, rustic meaty pastas, pork loin or braised beef.
2014 Petit Verdot
Petit Verdot was originally known as the lesser known blender used in some of the Bordeaux blends to provide depth and color. In Virginia, the terroir leads to such an excellent varietal character that in the best harvest years one should bottle the varietal rather then blend off this magnificent wine.
The 2014 vintage is a full bodied, complex wine with rich tannins and deep berry fruit. Look for robust, youthful tannins, dark plum with notes of licorice on the palate. Stash in the cellar for softer tannins over time. This wine summons steak or other hearty beef dishes to the dinner table.
2011 Finale
This is a port style wine with 17.5% alcohol by volume and 10% residual sugar and as such is designated a "Red Dessert Wine" by the Federal Government. This is 77% Chambourcin and 23% Cabernet Sauvignon and was aged for 30 months in French oak. This wine is characterized by lush flavors of berries, chocolate, and hints of licorice and mocha followed by a long silky smooth finish.
Finale is a wonderful accompaniment to sharp, nutty cheeses, cheesecake, macadamia coconut cookies or dark chocolate desserts.
Looking for our wines?
If you want our wines in your favorite Wine Shop or Restaurant, let them know we are carried by Siema Imports LLC throughout VA, DC and MD. Salud!
If you want to sip, but can't make the trip; we ship!
Visit our wine purchase page (click here). We ship to over 30 states including Virginia, D.C. and Maryland!