Gadino Cellars Vineyard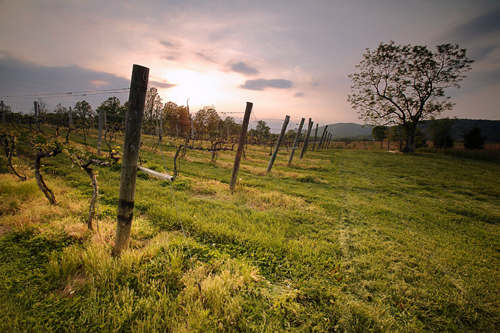 We always looked forward to our yearly harvest festival when friends, family and acquaintances braved whatever the weather presented and helped us harvest several tons of grapes. We couldn't have done it without them!
The Cabernet Franc harvest from our vineyard was sold exclusively to a newly established local winery from which many medals were garnered.
The rest of our harvest filled our wine cellar throughout the years as our noncommercial Echo Ridge wines. During these years we observed that the rolling land in the Blue Ridge foothills yielded fruity, spicy wines, particularly our Cabernet Franc and Cabernet Sauvignon. We have enjoyed expanding our vineyard to include the Italian varietals of Pinot Grigio and Nebbiolo. The quality of these wines speaks for itself as we cannot produce enough wine to meet the demand. We also enjoy growing and producing Chardonnay, Vidal Blanc, Traminette, and Petit Verdot.

 Starting in 2004, we produced—by choice—under 1500 cases.  Based on the vintage year, we will produce as much as 2300 cases or as little as 1400 cases. We focus on creating small lots of fine quality wine, presenting them to our guests in our comfortable tasting room in a friendly, family-style atmosphere.  Indeed, tasting room and on site event purchases constitute 80 per cent of our annual sales with select restaurants and wine shops throughout Virginia, DC and Maryland making up the rest.  We revel in sharing the local beauty of Rappahannock with our visitors and invite you to delight in the mountain vistas and vineyard views while you enjoy a glass of "poetry in a bottle" on our verandah. Come "Taste the Tradition".

Continuing  the tradition since 1993, we invite volunteers to help with the grape harvest every Fall.  The Harvest Picnic has evolved into an event open to volunteers who sign up throughout the year.  If interested, ask a tasting room associate the next time you visiting the winery.
The warm weather has finally succeeded in pushing bud break in our vines.   Actually, we got winter pruning done "almost" in time.  Bill finally finished the Chardonnay on 17 April being very careful not to knock off buds that had emerged as budbreak occurred on 15 April.  All was done successfully and, barring a late frost the potential for a bountiful crop is there.  
Bill and crew also planted over 400 new vines with the help of our latino crew.   Among the new vines are 250 Petite Manseng now planted in our back field (behind the homestead).   Turns out we got these new vines into the ground with great timing as we have had two rain events – one a soft steady rain and the other a passing thunderstorm – that dropped about 0.4 inches of rain.   We have been in a drought condition with little rain/snow over this past winter so the rains were very welcomed.  
Bill and crew will now tour the vineyard to tighten the tension on trellis wiring, replace any missing staples and put up wire for the new vines.   We have had bud break in all varieties except for the Vidal Blanc and Cabernet Sauvignon where bud swell is evident.  These are sure to bud out soon with our continued hot weather.