Gadino Cellars Vineyard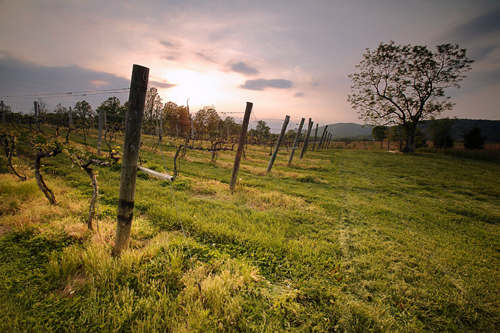 Vineyard Musings. 
As we enter summer, the Gadino Estate grapes have all gone thru bloom with some mixed results.  Earlier blooming varieties such as Pinot Grigio and Traminette did experience some "shatter" from the rains of late May while the hot, dry weather during the first two weeks of June were near perfect for our remaining varieties of Chardonnay, Vidal, Franc, Petit Verdot, Nebbiolo and Cab Sauvignon.   All in all, a decent bloom period with the potential for a good size crop.  
We are currently doing a "second pass" of shoot positioning and a first pass of leaf pulling – we call this canopy management where our goal is maximum air flow and minimal leaf touching to keep fungus diseases at bay.  As I write this update, we are also seeing the appearance of Japanese Beetles ….especially in the blocks near the woods.   We can experience some "leave munching" but if it gets too severe, a spray to control the beetles will be necessary.  There is always something going on out there but as the saying goes "a good winemaker leaves his footprint in the vineyard".