Gadino Cellars Vineyard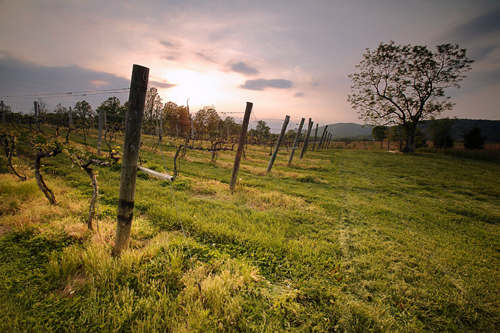 We always looked forward to our yearly harvest festival when friends, family and acquaintances braved whatever the weather presented and helped us harvest several tons of grapes. We couldn't have done it without them!
The Cabernet Franc harvest from our vineyard was sold exclusively to a newly established local winery from which many medals were garnered.
The rest of our harvest filled our wine cellar throughout the years as our noncommercial Echo Ridge wines. During these years we observed that the rolling land in the Blue Ridge foothills yielded fruity, spicy wines, particularly our Cabernet Franc and Cabernet Sauvignon. We have enjoyed expanding our vineyard to include the Italian varietals of Pinot Grigio and Nebbiolo. The quality of these wines speaks for itself as we cannot produce enough wine to meet the demand. We also enjoy growing and producing Chardonnay, Vidal Blanc, Traminette, and Petit Verdot.

 Starting in 2004, we produced—by choice—under 1500 cases.  Based on the vintage year, we will produce as much as 2300 cases or as little as 1400 cases. We focus on creating small lots of fine quality wine, presenting them to our guests in our comfortable tasting room in a friendly, family-style atmosphere.  Indeed, tasting room and on site event purchases constitute 80 per cent of our annual sales with select restaurants and wine shops throughout Virginia, DC and Maryland making up the rest.  We revel in sharing the local beauty of Rappahannock with our visitors and invite you to delight in the mountain vistas and vineyard views while you enjoy a glass of "poetry in a bottle" on our verandah. Come "Taste the Tradition".

Continuing  the tradition since 1993, we invite volunteers to help with the grape harvest every Fall.  The Harvest Picnic has evolved into an event open to volunteers who sign up throughout the year.  If interested, ask a tasting room associate the next time you visiting the winery.
We have been doing minimal vineyard tasks (e.g. replace posts, tighten wires, collect clips that hold the upright canes in place, etc.) since early November. Its that one time of the year where we can "rest" as the vines are resting. We also don't want to start winter pruning operations until the vines are adequately "winter hardy".
As temperatures drop, the vines and more importantly, the new buds will acclimate to those low temperatures. Cold hardiness is measured by subjecting the vine to incrementally colder temperatures and noting the temperature where 10%, 50%, etc. of the primary buds have mortality.
The viticulturists at the Virginia Tech Winchester Research Center makes these measurements. As a normal rule, we don't start winter pruning until after we've had several days of temperatures in the low-mid 20's...after which we can start removing old wood from vines with less risk of winter damage. Of course, here at Gadino Cellars we have data back to our original plantings in 1990 on when its safe to start winter pruning.
With this weeks temperatures falling into the teens ... according to the weather site by the winery, we had a low of 7.3 degrees at 1240 AM January 9th, we can now safely start winter pruning operations this week.
The hydrid vines (i.e. Vidal Blanc, Seyval, Traminette) are the most winter hardy so we will start with these vines. We will continue to prune hoping to finish before bud break which can occur as early as 10 April.