Visit Gadino Cellars during the weekend of Friday (September23) thru Monday (September 26) and taste two of our Award Winning Library Wines.
Any time during this weekend, you can taste and purchase our 2013 Library Estate Chardonnay and our 2013 Library Delfino Rosso. Receive a 2 oz pour of each wine for just $10 ($8 Club Members)….if you decide that you like these special wines as much as we do, you can then purchase at the following "this weekend" only prices: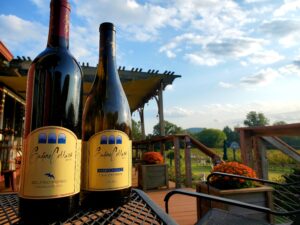 2013 Estate Chardonnay – $25 per bottle ($22.50 Club Members)
2013 Delfino Rosso (Bordeaux Blend) – $35 per bottle ($31.50 club members)
Limit of 4 wines per customer while supply lasts – we have 12 cases remaining for each of these wines.
Notes on the 2013 Vintage:
What started as a difficult year turned out a very, very Good year where fabulous wines were made. We had a late Bud break followed by a rainy summer which created much work in the vineyard to keep the grape canopies under control to maximize sunshine and minimize fungal diseases.
Fortunately, the weather from September forward changed with very little rain, sunshine filled days and cooler than average nights. This pattern gave us grapes with excellent sugars, bright acid and made "long-lived" wines. See if you agree with a taste of both these Library Wines!