Experience and compare three of our medal-winning Nebbiolo wines simultaneously!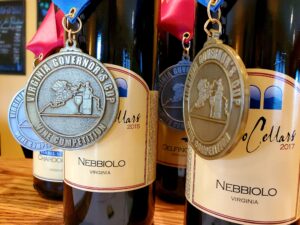 Each customer receives two ounces of each year Nebbiolo in separate wine glass so you can go back/forth to sample and note your impressions.
COST – $15 per person ($10 for Club members)
Tasting fee waived for Virginia Governor Cup Gold Medal Trail members who purchase the entire Nebbiolo flight – i.e. one bottle of the 2015, 2016, and 2017 Nebbiolo.
Gadino Wine Club Members will receive the normal club discount in place at the time of their tasting.
Due to limited availability from our one acre plot of Nebbiolo grapes, sales are limited to one of the following:

One mixed three pack – i.e. 2015, 2016, and 2017 – per person.
OR
three bottles total (e.g. 3ea 2015; or 2 ea 2016 & 1 ea 2017, etc. )
Try a tasting today before they're gone!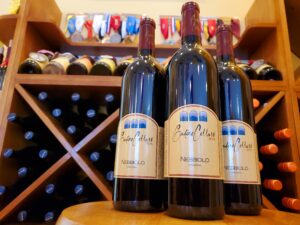 About the Nebbiolo
The Nebbiolo grape comes from Italy's north-western region of Piedmont. Though the grape is commonly known for being difficult to grow, with thin skins and late ripening, the efforts pay off with beautiful, long-lived wines. At Gadino Cellars, we follow the Piedmont tradition of aging the new wines for 2-3 years in barrel and another 2-3 years in bottle prior to release.
Pair with meats that are rich and fatty, such as slow roasted pork or beef like ragù, or cured meats like prosciutto. For cheeses, opt for creaminess and fat, such as brie, full-fat feta, goat cheese or manchego.